---
I'm Ally and I'm the Product Manager at Delib responsible for our new geospatial product, Citizen Space Geospatial.
I started my career with an internship here back in 2008 so was excited to rejoin Delib again last February after a 10 year hiatus.
Project direction
I came in with the brief that Delib had the beginning of an idea for a new geospatial product. The team felt there was an opportunity to build something that could transform the way customers ran spatial consultations.
I was to validate whether this was worth pursuing (spoiler: it was) and then help bring the product to market.
How local authorities navigate spatial consultation
The first task was to see how Delib's customers were running consultations that had spatial considerations; from proactive policies like active travel to statutory processes like Call For Sites.
This involved a lot of time searching our Aggregator – reviewing live consultations and seeing how local authorities were running these sort of exercises within Citizen Space. This was invaluable as it gave me an idea of the aggregated needs across all our clients, based on activities that were actually being run.
In the first six months of 2020, Delib's customers ran hundreds of consultations with spatial elements (maps, plans, locational info) across transport, planning & others.
Across these consultations we broadly identified three needs that our customers had for mapping and location:
To provide spatial information about a specific proposal, e.g. '[insert local authority] are proposing making this change at this exact location'
To show which policies are relevant for a location, e.g. 'see how the policies from our Local Plan affect your area'
To generate geographic data, e.g. 'tell us exactly where you think we should focus our resources first'
These needs were being serviced with a variety of hacks and alternate tools, with varying success; from embedded interactive GIS widgets (pretty good!) through to getting respondents to print out a map, draw a response on it, scan it and upload as a PDF (no comment).
We felt there was a definite opportunity to make our customers lives easier and do this better….
---
As part of preparing their Local Plan, Leicester City Council have been running a Call For Sites exercise to identify sites that might be included in their Housing and Economic Land Availability Assessment. This is a statutory process that requires stakeholders to submit details of their site (including a site location map), proposed future uses, site ownership and availability and any potential constraints.
To submit the location and boundary of their site a stakeholder uploads a JPG/PNG. At best this will be an image from a digital map; at worst a scan of a paper Ordnance Survey [OS] map, with the site boundary drawn on in pen. One of the Leicester planning team is then required to manually transcribe each submitted site into Mapinfo (their GIS) One of the Leicester planning team would then be required to manually transcribe each submitted site into Mapinfo (their GIS) to enable them to check against things like flood zones and other suitability criteria, with suitable sites to be published to their Strategic Housing Land Availability Assessment [SHLAA], which is hosted on a different piece of software (Aurora) than their GIS (Mapinfo). This is the interoperability nightmare planners have been stuck with for so long.
---
Coordinating user research
The next step was for me to speak to some customers to understand how the spatial consultations that they'd been running on Citizen Space fitted into their wider end-to-end processes.
I managed to get the first three of my interviews in person, before the magnitude of the pandemic hit and I had to take things remote. Coordinating interviews with teams who are not only going into crisis mode but also having to negotiate working from home (some for the first time) is no mean feat. I have a lot of respect for the people who managed to make time to speak with me in amongst.
I interviewed over 20 incredibly helpful folks across planning, transport, housing and GIS teams, from London boroughs to regional combined authorities, covering partners across United Kingdom and the Republic of Ireland.
Interviews zoom in on the detail
The Aggregator research had helped us understand the geospatial consultation needs of local authorities on a macro level. These interviews helped me understand more on a micro level – the details of individual customers' GIS setups, how they managed certain activities that we thought were standout use cases (such as electric vehicle charging infrastructure rollouts and running a Call For Sites process) and what they felt could be improved about wider spatial consultations.
Planners love paper.

– Planning officer
These are the key findings that came out of the interviews:
GIS expertise varies hugely across local authorities. Sometimes it's a core competency distributed across the organisation, sometimes it's a small specialised team (or person!).
There is an abundance of existing GIS software. There are market leading GIS providers (ESRI and Mapinfo) but people use other GIS tools too. Sometimes for specialist tasks (like Smallworld) and sometimes so they can keep things open source (like using QGIS).
Customers want to do spatial consultation better. Their GIS systems are powerful but generally pretty impenetrable for the non-expert public, but most consultation platforms don't generate useful geodata or integrate well with GIS.
Geospatial data has hit maturity. There are now open datasets for a broad number of useful applications. It's easy to access high quality and portable geospatial data.
Planners prefer to use paper. Paper responses need converting to enter into a GIS. This is either a manual task or sometimes even requires expensive consultants. Digital needs to be as easy as paper to drive adoption.
Maps are not accessible. Maps aren't included in most Accessibility requirements, other than route making, so often there is no alternative way to participate.
It's hard to close the loop on spatial consultations. Publishing responses is especially hard if they were received on paper, as the geodata is created straight into the GIS and by that stage it's often a step away from the team running the public consultation.
Once analysis is done we are fire fighting to get stuff done, rather than making [representations] available for people who aren't necessarily asking for it

– Senior Planning Officer
The path forward
The research helped us to validate some of our ideas but also gave us new considerations to take forward into the product. The five key recommendations from our research:
Support the end to end process. How might we improve the democratic process for stakeholders and the local authority?
Make publishing responses simple. Can we make it as easy as publishing normal consultation responses?
Don't build a GIS system. Make it easy to import and export data in open formats that will work with existing GIS setups.
Focus on creating geodata rather than documents.
Create an inclusive spatial consultation. How can we take mapping beyond the WCAG standards for accessibility?
These five recommendations informed the way the product was designed and built. The finished product is one that adds geospatial capability to every stage of the engagement process – including analysis and reporting. It's fully interactive, accessible, and supports a whole range of place-based democratic processes.
---
We're confident that Citizen Space Geospatial solves a lot of problems for a lot of people. But who defines those problems and how specifically do you solve them?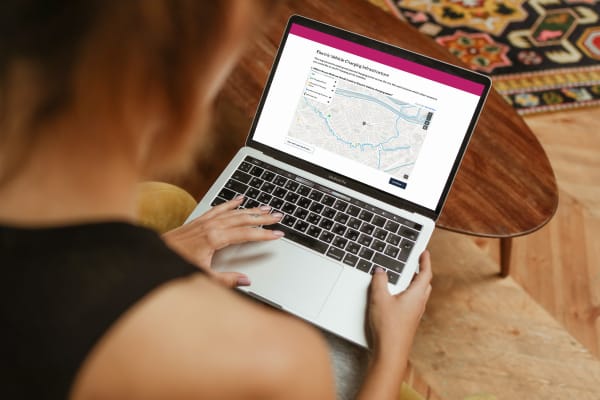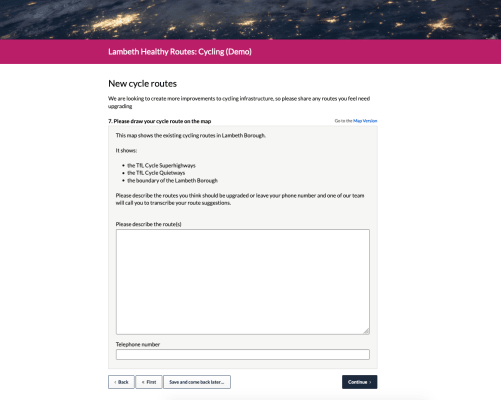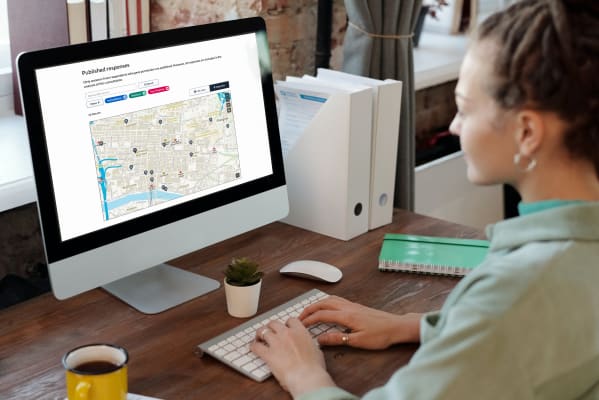 What is geospatial data? Why is it important for democracy, consultation and engagement activities? Read a detailed overview.
To find out more about Citizen Space Geospatial book a demo and we'll walk you through it.