Introducing Geo Select: the one-tap wonder
---
---
Today Delib announces a brand-new feature for Citizen Space Geospatial, the revolutionary place-based engagement tool at the forefront of geospatial and democratic innovation.
Geo Select allows respondents to select an option from a pre-loaded layer on a map as their answer. It offers a new response mechanism alongside the existing options to draw a line/route, draw a polygon (shape), and drop a pin on an interactive map.
This new response mechanism behaves in much the same way as choosing from multiple radio button options in a text-based question/answer.
This latest innovation from Delib dramatically expands the horizons of how maps can be used in engagement, both in terms of providing an easier, more informative experience for respondents and collecting more useful, quantitative data for public organisations. Everyone's a winner.
A simpler choice mechanism
Delib's ethos is to bring democracy to citizens wherever they are: on a train, a plane (preferably not an automobile unless they're a passenger), at home, or at work. This new feature gives citizens a simple choice mechanism – clicking or tapping on a pre-loaded option on a map – rather than asking them to come up with an original answer. Geo Select's simplicity brings a smooth and uncomplicated user experience, allowing respondents to breeze through engagement exercises presenting complex geospatial information with ease. This further reduces barriers to participation and makes democratic access that little bit easier. Read more about the role of maps in citizen engagement.
Different data possibilities
By giving users set options to choose from a map, Delib also opens up the ability to connect maps with the rest of Citizen Space's powerful survey functionality, like skip logic. Maps can now be used to route people through a survey – for example, a respondent can select on a map which site they'd like to comment on in a Call for Sites exercise and be routed to questions about that particular site.
Citizen Space Geospatial is already unparalleled in its ability to seamlessly integrate with survey capability and this latest innovation brings a revolutionary new way for routing users through an exercise using interactive mapping. Respondents save time by only answering questions that are relevant to them and admins get better, more concise data.
Geo Select also enables admins to collect quantitative data from a mapping activity. Admin users can pick which attribute (for example, the name of a ward or the ID of a site marked for development) of the selectable layer flows through to the reporting side of an activity. This quantitative data then behaves in much the same way as a multiple choice Radio Button question would, making for quick, easy analysis.
An even more versatile platform
Adding Geo Select to Citizen Space Geospatial further expands the already powerful versatility of Citizen Space and opens up a whole range of new use cases.
Example 1: Presenting proposed cycle routes
There are only three routes that are feasible for a proposed cycle lane due to road constraints in a council borough. Rather than asking citizens to draw their ideal cycle route, which may not be possible in this particular area, residents can be asked to pick between the three feasible cycle lane options on a map.
Example 2: Site allocations
A council are asking residents to comment on 150 sites earmarked for new development. The council can use Geo Select to create a map with all the sites on, allowing residents to select the site they want to comment on and click through to a site-specific page with questions.
Example 3: Ward boundaries
A council are running an activity that requires respondents to enter which ward they live in, which will enable the council to share the response data with the respective councillors representing each ward. Often residents don't know the name of the ward they live in, so the council uses a map with the ward boundaries and their names in a selectable layer. Respondents just need to find where their house is and select the corresponding ward in order to answer the question.
---
There are many more possibilities available with Geo Select and Citizen Space Geospatial. Book a demo to find out more.
Revolutionary place-based engagement with Citizen Space Geospatial
Include maps and geospatial data throughout your consultation and engagement activities.
Citizen Space Geospatial solves a lot of problems for a lot of people. But who defines those problems and how do we solve them?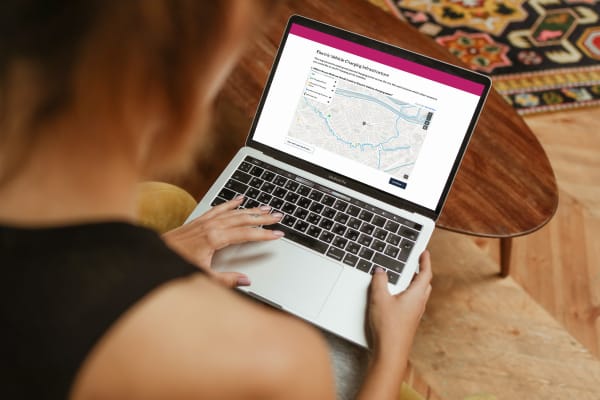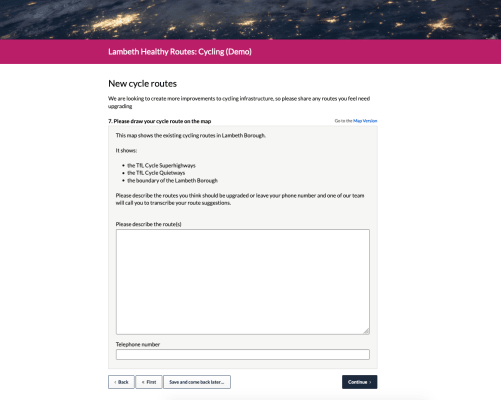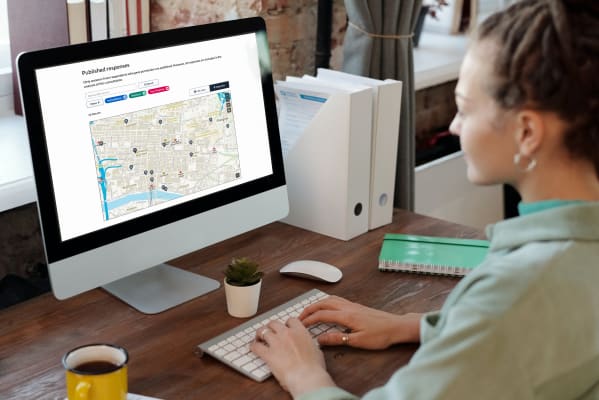 What is geospatial data? Why is it important for democracy, consultation and engagement activities? Read a detailed overview.
To find out more about Citizen Space Geospatial book a demo and we'll walk you through it.